Adele - 19 (2008)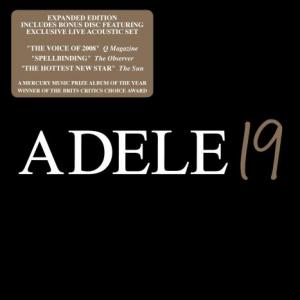 Исполнитель: Adele
Альбом: 19
Жанр(ы): Blues, Funk, Soul, Jazz, Pop
Формат звука: MP3 Joint-stereo, CBR 320 кбит/с
Продолжительность: 01:18:57

Треклист:
1. Daydreamer (3:40)
2. Best For Last (4:18)
3. Chasing Pavements (3:29)
4. Cold Shoulder (3:11)
5. Crazy For You (3:27)
6. Melt My Heart To Stone (3:23)
7. First Love (3:10)
8. Right As Rain (3:17)
9. Make You Feel My Love (3:31)
10. My Same (3:15)
11. Tired (4:18)
12. Hometown Glory (4:29)

Bonus Disc:
1. Chasing Pavements (Live At Hotel Cafe) (3:52)
2. Melt My Heart To Stone (Live At Hotel Cafe) (3:21)
3. That's It, I Quit, I'm Movin On (Live At Hotel Cafe) (2:07)
4. Crazy For You (Live At Hotel Cafe) (3:43)
5. Right As Rain (Live At Hotel Cafe) (3:32)
6. My Same (Live At Hotel Cafe) (3:05)
7. Make You Feel My Love (Live At Hotel Cafe) (3:52)
8. Daydreamer (Live At Hotel Cafe) (3:41)
9. Hometown Glory (Live At Hotel Cafe) (3:48)
10. Many Shades Of Black (Performed by The Raconteurs and Adele) (4:28)





Альбомы, похожие по жанру:George Michael - Songs From The Last Century (1999)

Жанр: Pop, Dance

Depeche Mode - A Broken Frame (1982)

Жанр: Synthpop, New Wave

No Doubt - Everything in Time: B-sides, Remixes, Rarities (2004)

Жанр: Ska Punk, Alternative Rock, Pop Rock

Lady Gaga - Born This Way (Special Edition) (2011)

Жанр: Dance, Electronic, Pop

Texas - White On Blonde (1997)

Жанр: Pop, Soft Rock, Blues

Chris De Burgh - The Storyman (2006)

Жанр: Soft Rock, Pop



Качественно выполнить ремонт изделий из кожи очень сложно. Тут нужно специальное оборудование и высокое мастерство. Поэтому рекомендуем обращаться в ателье мод «Богема».



---
ДОБАВЛЕНО: 28-01-2011 | ПРОСМОТРОВ: 14901 | КОМЕНТАРИЕВ: 0
| | |
| --- | --- |
| | Чтобы разместить комментарий, войдите в систему! |